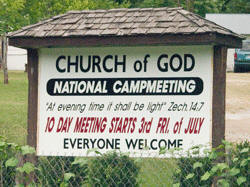 Welcome to Monark Springs Church of God Campground. We hope that this web site will be a blessing to all who choose to view the contents of these pages.
The first camp meeting was held in July of 1938. The Lord wonderfully blessed from the first meeting, and He is still blessing the meetings today, in 2006. The church teaches full Salvation and Holy Spirit leadership. The teachings of the Holy Bible are the guides by which we follow.
The Lord has been blessing the services with messages from heaven, spirit-filled singing, and healing of souls, minds, and bodies.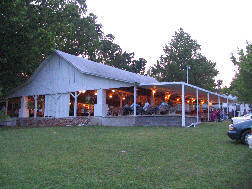 The testimonies of answered prayers, miracles, and fellowship of the Lord's people, are a blessing to behold. The Church of God is made up of all who are saved and living to all they know and understand. Our services are led by the Holy Spirit. It is a blessing to see how the services go. The Word of God is preached by whomever the Holy Spirit chooses. There have been times that our services were mostly singing, and other times of just testimonies and prayers. When the people of God assemble themselves together with the Holy Spirit leading, anything can happen.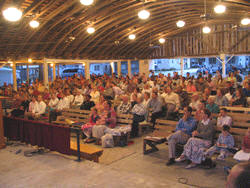 The photo page includes many pictures throughout the years of campmeetings. There are some years that are missing. Either we do not have copies of the pictures, or there were not any taken. Brother Barton's son, Gene Barton, has taken the majority of the pictures over the years, and we do appreciate them today. If anyone has pictures of the missing years and would like to loan them to be scanned, please let us know. Also, we realize the older saints are moving on to Heaven, and we want to be able to identify the people from the older pictures. You are welcome to download the pictures, print them and write down the names of the people in the photos, then send them on so we can start putting names with the faces of the people in the pictures.
The audio link is there for you to enjoy the messages, singing, and testimonies of the last meeting. Feel welcome to download and pass them on to your family, friends, and to whomever needs the LORD.